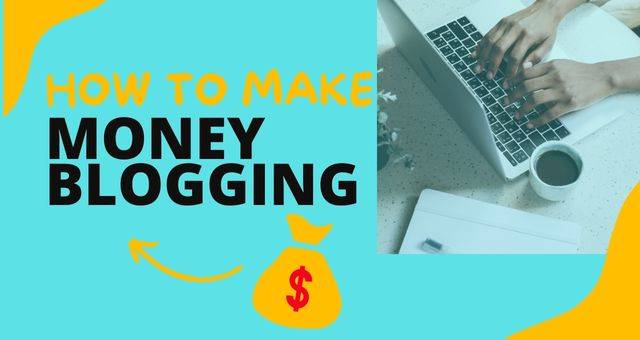 Is it possible to make money blogging? Is it a truth or a myth? This question comes to everybody's mind.
Blogging is a reality and yes you can make money blogging. All you need to do is to start a Blog, write quality content, have good knowledge on SEO and then start your blogging business.
Earlier blogging was a hobby for some people but today it has become a full-time source of income for many bloggers.
So, in this article let's discuss how to make money blogging in 2022.
How to make money blogging for beginners?
Here is a list of steps to follow to make money blogging for beginners:
Set up your self-hosted blog
This is one of the easiest steps to start a blog. All you need to do is to register your domain name, Sign In for a good web Hosting, set up your WordPress and start a blog.
Doesn't the steps look very easy? Yes, today register a domain and starting a blog is very easy task.
You can start with signing up for any web hosting like Hostinger, Bluehost.com, etc and can install your WordPress within 30 mins or less.
Now as you have created your blog you should keep in mind that your main goal is making money blogging. So as a beginner you should not invest much in designing your website rather you should focus on building your blog and driving traffic to it.
Now that you have self-hosted your blog then we will proceed to the next step.
Start publishing quality content in your blog
As we know that content is the heart of your blog. So, this is one of the greatest challenges how to create great content for your blog. Only quality content can help you in driving potential traffic to your blog.
Now that you know you have to create great content so, what is a great content?
Mostly you have to write text content and include images, Infographics and videos to make it a quality content.
Now a great content should be unique, should not have any grammatical mistakes, content should be meaningful and easy to read.
So, choose a topic with a good search volume and about which you are interested to write. Choose your niche accordingly so that you can write great content regularly for your blog. Even if you are passionate about a topic, the main part is to choose a topic with a decent audience. To make money from your blog people should buy your products and advertisers should pay for your ad space.
Yes, you need a decent audience for your topic but do not go too broad. If you choose popular topics then there is a lot of competition in the market. If you are a beginner in blogging always target for long tail keywords which have low competition which have a good search volume. This will help you to easily compete with other bloggers.
Build organic traffic
The next step is how to drive organic traffic to your blog. Then what is organic traffic?
Organic traffic is generated from search engine not from any paid sources. This is essentially the free traffic.
Organic traffic is more valuable as they have a clear intent may be they are searching for an answer or to find information to buy a product.
There are a lot of ways to build organic traffic to your blog. The most important is Search Engine Optimization. You have to consider certain points to build organic traffic:
You have to create content that the search engine understands.
It is important to have quality links to your blog.
You should maintain the blog posting frequency. Publish your content regularly to keep the readers happy.
Make sure that your content is shareable so that you can do social media promotion. You should add social media bookmarking buttons on your blog.
Build Community
After building the blog and once you see traffic in your blog, the next step is building a community around your blog.
Remember brand awareness is very important for your blog to grow it. So, try to build a community of people those will follow you and buy your products and services that you promote.
You can do it by email marketing, social media marketing, push notifications, or by replying to their comments.
Through email marketing you can share new products, sales with customers in their contact list. You can inform the customers those who subscribe in your email list about your new content. This is one of the most efficient methods to get a community around your brand.
But this doesn't happen overnight. It takes time first you have to build a trust by providing value through your emails then you can promote your product and services.
Customers those who register for push up notification are notified whenever any new content is published.
Social media marketing uses the internet based social media platform to stay connected with friends and family. You need to have social presence on the channels which your potential followers are using. This can be done by using social networking sites like Facebook, Instagram, Twitter, etc.
Also, you should reply to all the comments which other people give in your blog and try to help them as much as possible. This is necessary to build a community around your blog.
Various Income stream of Bloggers
As your blog is now ready, you have built a community then the major part is how to make money blogging. Here is a list of some awesome ways which can help you make money blogging:
Ad Networks like AdSense
Advertising is one of the most popular and simplest monetization methods. The most popular Ad network is Google AdSense which is offered by Google and most beginner bloggers find it the most suitable way to monetize their blog.
To monetize your blog using Google AdSense you need to add a script from Google to your website and start displaying the Ads.
You will get paid as per the number of clicks on your website. The Ads used are of high quality so they do not affect the user experience. By displaying CPC (cost per click) Ads you will receiving a fee whenever a user clicks on an ad. The fee depends on the user location and type of ad.
But as compared to other monetizing methods the income per visitor is less. Advertisement also affects the user experience so you have to place them in the right place and also reduce the number of ads per pages.
Affiliate Marketing
Affiliate marketing is the best monetization method that bloggers can use to generate income. A single sale can generate more income as compared to a click on an ad. It is preferred by most bloggers and is one of the profitable ways to make money.
Some of the popular affiliate marketing marketplaces are Amazon Affiliate program, ShareASale, Awin, commission junction, etc.
After joining any affiliate programs, you can get an unique affiliate link. Whenever a customer clicks on your affiliate link and purchase a product that you are promoting, you will get a commission for every sale.
Sell eBooks
eBooks are easy to write and produce and these are a great option for creating digital products. Most of the bloggers sell their own digital products. Thus, you can take some of your blog posts and turn them into an eBook or you can take a topic, write an eBook on that topic and sell it on your website.
You can design a book cover by using a tool like Canva or can hire a freelancer in some freelancing network to design a cover for you.
Selling your own eBook is a great monetization way to make money blogging.
Sell online courses
Selling online courses is a great way how to make money blogging and most of the successful bloggers run their online courses.
You can earn more by selling online courses as compared to selling eBooks.
You can create a lesson for your course or can convert your eBook to a video tutorial. Then you can add some supporting materials like downloadable templates to it.
Once your course is ready you can deliver that to your audience and can earn money from it.
Sponsorships
Sponsorships or paid ads are a great way for bloggers to boost their monthly income. Basically, a company pays you for this to promote their product by talking about it, representing in front of their readers.
But finding a sponsor is difficult when you are a beginner. For that you have to build brand awareness and good traffic.
Most bloggers are paid one time for publishing a sponsored article which is based on the reach that the post can provide.
Mention in your article whenever you are writing a sponsored post. The most important thing is that share a honest feedback so that you don't loss the trust of your readers.
Consulting and freelance writing
As a blogger you can also earn money by offering your services as a freelancer. Most of the companies may be writing mails to you for consultancy or freelancing services if you are a blogger.
You can create a page sharing details about your services and also highlight it by adding it to your homepage. It does not require any investment of time and money. You can start offering your services to your audience.
To get quality leads you can provide all the important details of your service. Make sure that your audience can more easily contact you for your services. Slowly you can improve the sale process of your service that you provide. Also, you can automate the payment and follow-up options.
Run campaign for brands
If your blog has an established audience base then it is perfect for you. You can run campaigns for brands to reach the target audience. For this you have to run paid ads, brand collaboration and also can make videos. Most of the blogs are now doing it for brands.
Conclusion
Can you make money from blogging? As you came to know that the answer is yes. There are a lot of methods to monetize your blog.
For beginners it may take time to make money blogging. It takes time and it all depends on traffic. The more traffic you have in your blog that will be more attractive to the advertisers.
Earlier bloggers used to earn money from AdSense only but now there are many ways to monetize your blog. You, can monetize using multiple monetization methods to get a decent income from blogging