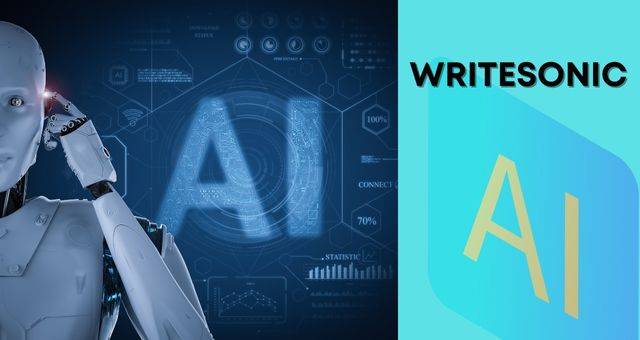 Don't you think copywriting is hard? Yes, of course. There is a huge amount of work involved and the fight to rank in Google's first page can also break you.
So why not give instructions to the machine and let it generate search engine optimized content for you. Here comes the concept of AI writing. Using this you can generate engaging content while you can stay focussed on your important tasks.
All thanks to the AI copywriting tool that helps all bloggers, content creators to write quality engaging content within a fraction of time.
So, are you looking for an AI copywriting tool to boost your business growth?
Yes, Writesonic could be the best choice for you. This helps you in making the writing process easier and more efficient for you. Here we will discuss how it works, the pros and cons of it and why to use it?
What is Writesonic API? Writesonic Reviews
Writesonic is an AI powered content writing tool used by over 3,00,000 users all over the internet including bloggers, content writers. This is used for creating blog posts, landing pages, product description, etc. It has a clean interface, well pricing and is very easy to use.
Simply you have to select a template, give a few keywords, a short product description and Writesonic will provide you with multiple computer-generated samples to choose from. It can create a copy for you within 15 secs. It generates SEO powered content for you. You can get the content for a little price as compared to hiring a writer for content writing.
So, now we know about Writesonic then let's have a look at how it works?
How does Writesonic work?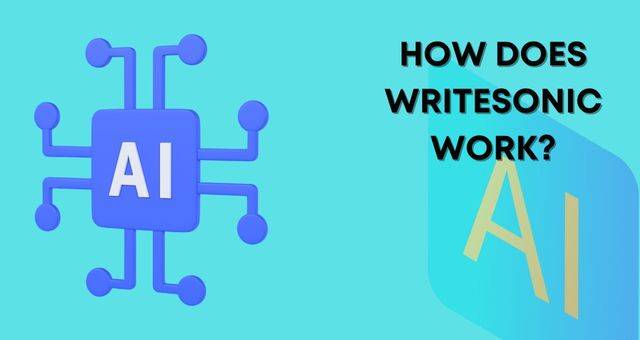 The dashboard is simple and you are allowed to pick up to 40 content options. The experience of using it depends on the options you choose but more over all are the same.
You have to provide the program with a topic, keywords and the language you want to write the content. It will produce up to five options for you.
1. First, we need to write a short description explaining the topic of the article which you want to write about.
2. Then you have to click the generate ideas button on the bottom of the page.
3. AI software will take your input and work to generate your desired output.
4. After only a few seconds you can get the list of article ideas about that topic and you can bookmark the topic idea which you like.
5. The most important part is that you can review the content that Writesonic comes up with and also you can regenerate the content if you are not satisfied with it.
The process is simple and you can overcome your problem of generating content by using this AI powered tool.
Features of Writesonic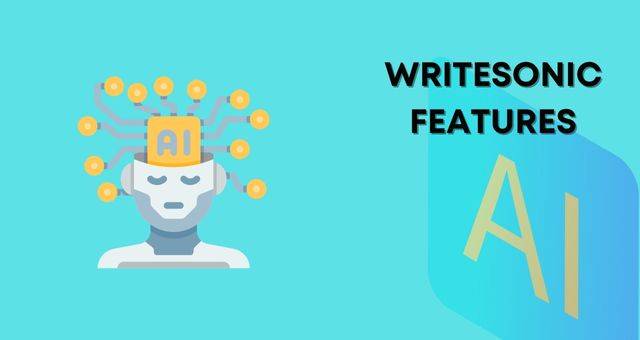 Being one of the market's rich AI writing tools, it has a ton of features.
Here is a list of most remarkable features:
Articles and blog posts
This is one of the main features of its AI writer.
Blog Ideas: You can find hundreds of blog post ideas as per the topic given by you.
Blog Intros: Also, it can help you in writing strong introductions which can make anyone read your content.
Blog Outlines:This feature is very useful for beginners who can use this to write a summary of the blog post so that you can plan your content in advance.
AI article and blog writer
By using this AI writer, you can generate 1500 words of content within 20 seconds. It can also generate the complete search engine optimized blog post within 30-40 seconds. The blog post generated has good readability, is grammatically correct, plagiarism free and also it adds relevant images which makes the content more visually appealing and engaging.
Story Generator
You can write compelling stories with the help of Writesonic story generator. Only thing you need to do is to enter the inputs and the AI tool will generate unique stories for you.
E-commerce product descriptions
Product descriptions
Using this AI writing tool, you can write high quality engaging product descriptions. Whether you are selling physical or digital products, this tool will help you in increasing your sales by writing SEO friendly and unique product descriptions.
Ads and Marketing tool
Facebook Ads
Using the Writesonic AI tool you can create high converting Facebook Ads in seconds. You can create unique and engaging Facebook Ads and can optimize your Facebook campaigns. This can help in ultimately boosting your revenue.
Google Ads
This AI tool can produce high converting and high-quality Google Ads that can increase your click through rate. Writesonic's Google Ad generator can create high quality Ads in seconds.
YouTube descriptions
Using Writesonic YouTube description generator you can write content in seconds by giving your Video title, search term and language. You can get up to 5 high quality video descriptions in seconds that can describe your video very well.
YouTube outlines
This tool allows you to quickly generate an informative and engaging outline for a YouTube video in seconds by giving the video title, search term and the language.
Short Linked In posts
This helps content creators to produce high quality professional content for their Linked In profile.
Website Copy
Landing Pages
Creating Landing pages is time consuming. But Writesonic's landing page copy generator helps in creating high converting landing pages in seconds.It only needs the name of the product, a description and its benefits. And you can create unique, and SEO friendly landing pages in no time.
To know more on the features of Writesonic click here(https://writesonic.com/features)
Ease of Use
The software is simple and easy to use. Almost any one can sign up and start using it. Various examples are provided on how to use each feature.
You can create different variations of your content using this AI tool. It takes a few steps and time in seconds to produce your content using this tool.
Writesonic pricing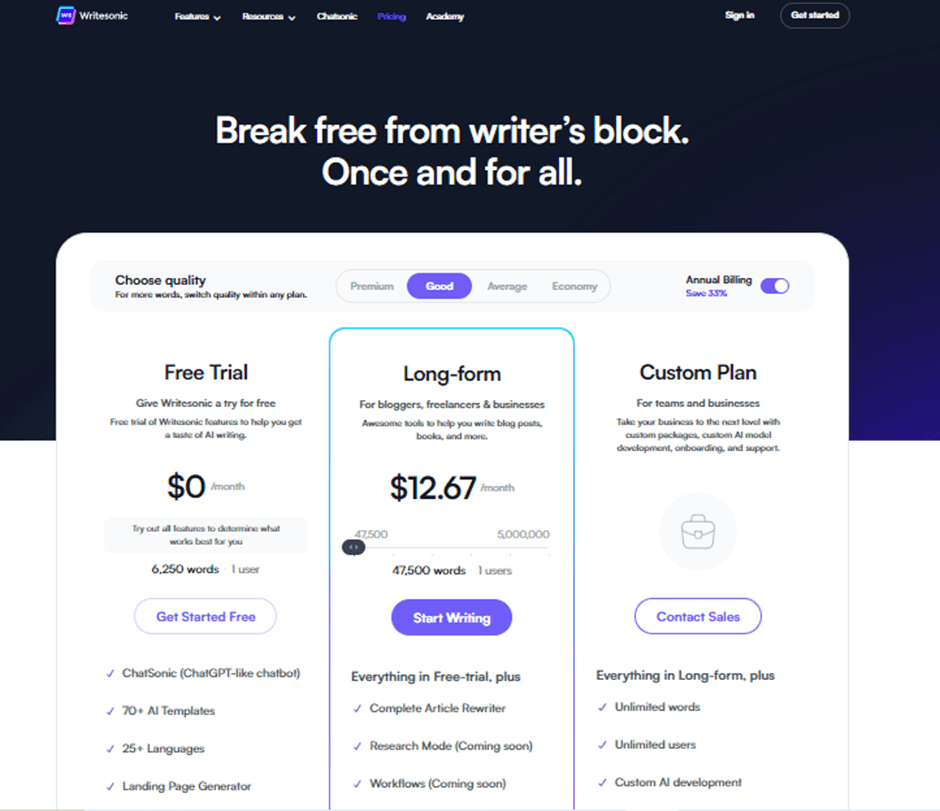 Here are three different plans and pricing that are offered by Writesonic to accommodate all budgets.
Free Trial: With this plan you can generate 2,500 words of premium content or 6,250 words of good content.
This gives you the opportunity of testing the tool and checking if it's a good fit for your needs.
After this, you may switch to other paid plans.
Long-form
This plan is just 12.67$ per month.
Word count are as follows:
Premium : 19,000 words
Good : 47,500 words
Average : 95,000 words
Economy : 1,90,000 words
Custom plan
You can take your business to the next level with this custom plan. This has unlimited number of users, unlimited number of words, Custom AI development, Invoicing options, training sessions, premium support.
Writesonic pros and cons
Pros:
The attractive UI makes it easier to understand and thereby making it beginner friendly.
The writesonic content generation is accurate and with few inputs gives a high quality content.
It has integrations with various tools and thus can automatically publish your content to WordPress.
It offers good word count in an affordable pricing plan.
What are Writesonic's alternatives?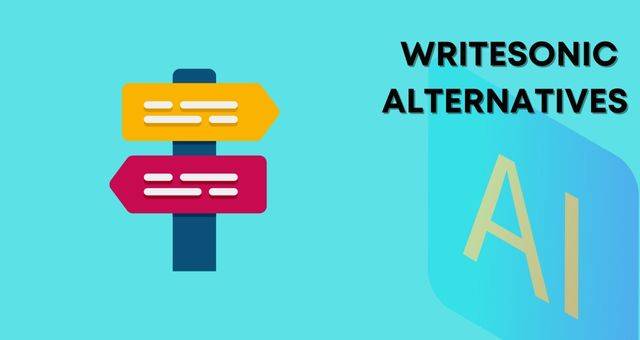 Here are some of the main alternatives of Writesonic: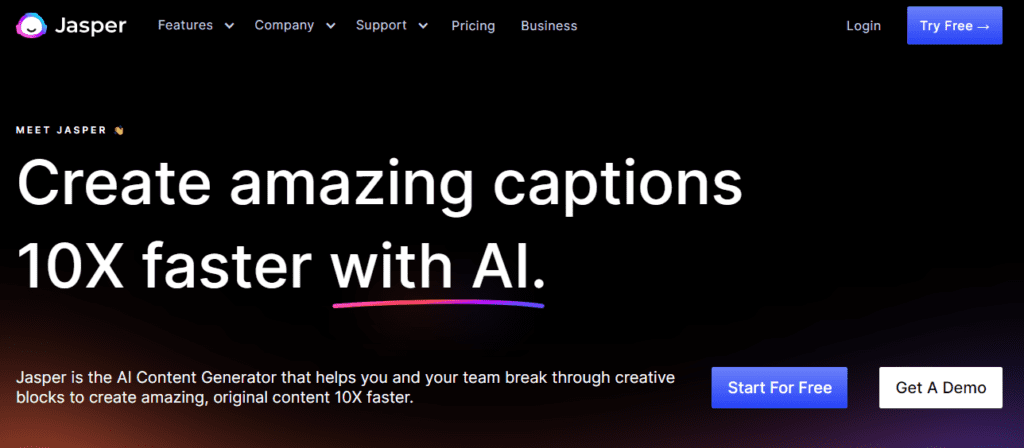 Jasper AI is one of the most powerful AI copywriting tools. It has a lot of ready-made templates to get you started as a beginner. Also, it has direct integration with Surfer SEO which is one of the content optimization platforms.
The pricing starts at $24/month and the boss mode plan begins at $49/month.
It is another popular AI copywriting tool that is used for generating blog posts, social media posts, and product descriptions.
This has a simple interface and it is easy to use for people who are beginners.
It has a free plan which allows you to write 2000 words per month and the pro plan is 49$ per month.
Copysmith
Copysmith is an AI content creator tool for enterprise and ecommerce. They have a bulk content creating tool that can create hundreds of contents at a time. Their bulk product description tool can generate product catalogs at a time.
It is one of the best AI copywriting tools for creating bulk descriptions, catalogs, etc.
The pricing starts at $19 per month and comes with a free version.
Writesonic vs copysmith
Copysmith is an AI writing assistant that is best for e-commerce business owners and large teams.But writesonic is a AI based copywriting tool best for bloggers, freelancers, and content creators.
Copysmith supports bulk content generation as compared to writesonic.
Writesonic vs jasper
Both are AI writing tool used to generate high quality content. These tools can rephrase the content quickly and easily and generate new versions of existing content.
Both can generate long form articles in which most content writers are interested. Also, they can generate stunning visuals for your article.
Both of them has a lot of features which you can easily use to write your content. Jasper is bit pricier but it is worth it if you look at the range of the features it has. So, both are great options to write quality content and it depends upon your needs and budget to choose among both options.
Wrapping Up
For freelancers, content creators and business owners who want to automate content creation using an AI copywriting tool, Writesonic is the best choice.
This has a lot of features that help humans write content more efficiently without spending hours upon hours doing so.
With a lot of templates and a lot of customization options, Writesonic is the best option to choose.
So, are you choosing Writesonic as your AI copywriting tool? Let us know in the comment section.